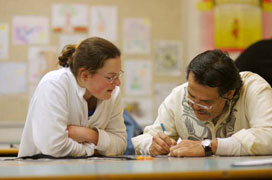 At the Special Education conference in Kananaskis, Alberta, I listed to
Joellen Killion
talk about Learning Coaches and the need to have this system in place to improve student learning.
Alberta Education
has two pieces of writing on the subject of Learning coaches on their website and the first line of the
second article
reads Learning coaches are educators who are knowledgeable about inclusion and are skilled at facilitating teacher collaboration and sharing of promising practices. The article describes a learning coach as a Change Agent who:
Promotes exploration and change in instructional
practices (e.g., introducing innovative ideas, questioning
practices, making observations, exploring new
technology)
• Ability to motivate others to implement innovative instructional
practices that respond to the needs of 21st century learners
• Knowledge of implementation of sound classroom management,
higher-order thinking skills, engagement strategies and differentiated
instruction
What better way to promote inclusion than to have a learning coach in the school who could support teachers who are unsure of how to include all students in the classroom, who are afraid of the unknown waters of inclusion, who have never welcomed a child with moderate to severe special needs in the classroom, who have never really taken (or had) the time to discover the assets of a child when his/her apparent disabilities seem to stand out?
On the Alberta Teachers Association website, the discussion paper on
Learning Coaches: Support for the Inclusive Classroom states,
The provision of school-based expertise supports the notion of dynamic and responsive professional development. It offers many of the characteristics of effective professional development such as job-embedded, school-based support and ongoing professional learning Discussion Paper on Learning Coaches—Support for the Inclusive Classroom that is context specific (Darling-Hammond and Richardson 2009; Desimone 2009; Guskey 2002; and Birman et al 2000). Professional support and resources are then focused on the needsof the teacher, which may be determined by the individual needs of the students in his/her classroom. Thus a coaching model attends to both the needs of the teacher and, indirectly, to the needs of the students. By having learning coaches available to every school in Alberta, the
support to teachers is responsive to and respectful of the needs of the teacher and occurs through targeted and ongoing feedback. As a result, teachers increase their capacity to address diverse learning needs.
What better way to create inclusive learning environments but by having teachers help teachers?